Bus Charter and Rental Frequently Asked Questions

Q: Is traveling on a motorcoach safe?
A: Today's motorcoach is one of America's safest means of travel. It is the safest mode of transportation other than trains. Accident statistics maintained by the National Highway Safety Administration indicate you are 1,097 times more likely to experience a fatal accident in your own car than aboard a motorcoach.
Q: What are the advantages of traveling on a motorcoach?
A: Simply put, we do the driving. You're free of the hassles of traffic while a professional driver handles the wheel. Without the responsibilities of driving you are now able to sit back and see the sights, socialize with friends, use on-board wireless internet, enjoy a movie, or sleep if you like.
Q: Is traveling by motor coach costly?
A: There is no more economical way to travel. Period. In most cases, each traveler's share of the cost of a professional motorcoach will be far less than other modes of transportation and even less than private autos. (By the way, have you ever tried to coordinate the movements of 20 separate cars for a single trip)?
Q: Is bus travel harmful to the environment?
A: Customers are often surprised to learn that group travel aboard modern motorcoaches is a "green" method of transportation. It is an environmentally friendly mode of travel because it offers reduced carbon emissions, compared to the efficiency of automobiles and commercial jets. By traveling in groups, you reduce the number of cars on the road, which saves fuel and also significantly reduces traffic conjestion.
Q: What questions should I ask when chartering a motorcoach?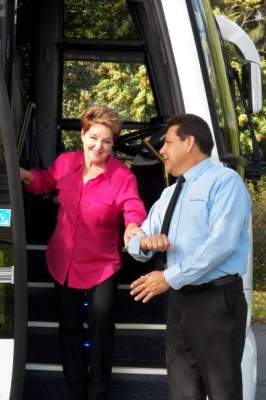 A: There are several questions you should ask a motorcoach operator when looking to hire his services:
Does the operator have current operating authority from the USDOT?
If asked, can the operator provide proof of insurance for their vehicles?
Are the vehicles in good condition and are they being maintained in good working order?
Do drivers possess valid commercial driver's licenses and are they skilled in operating the vehicle to be used?
For the number of people traveling, what size coach will I need?
Are the vehicles equipped with restrooms, wireless internet, audio/video/PA systems?
Is the operator affiliated with state or national associations, (resourses to be counted on for emergency aid if necessary)?
Are the driver accomodations and gratuity separate or are they included in the costs?
Ask if additional drivers will be needed for itineraries which extend daily service beyond the legal DOT rules?
What are the deposit and/or refund/cancellation policies?
Click here for other Tips & Information you will find helpful when chartering a motorcoach.
THE CARDINAL RULE: DON'T BUY ON PRICE ALONE!
All motorcoach companies are not alike. When you're deciding on which company to use, make sure you are comparing apples to apples. If the price received from one operator is significantly different than others in the area, it might be because that company is saving money by poor or inadequate preventive maintenance procedures. Don't risk heartache to save a couple of bucks! Remember, as a general rule, you get what you pay for.