Casino Bus Trips to GulfStream Race Track & Casino


Every 2nd Wednesday our luxurious buses transport gamers to GulfStream Park. We will pick you up at convenient locations along the Treasure Coast. The cost is $35 per person to GulfStream Park. There's live racing and each player will receive $20 free play plus a $5 Food Voucher.
LINE RUN PICK UP POINTS AND TIMES APPEAR IN SCHEDULE BELOW

Wednesday: GulfStream Park
Vero Beach I-Hop Restaurant Route 60 and 88th Ave. near I-95, please park in lot on the West side of the restaurant, away from the I-Hop entrance
Indrio Crossing and Kings Highway, Park by Indrio, away from Fitness Center
Port Saint Lucie - 9:15 AM
Walmart Super Center Near I-95. 1675 St. Lucie West Blvd. Park at SW corner of lot near St. Charles Rd.
Kanner Crossing Publix parking lot. Park at far end of lot facing Kanner Highway.
Arrive GulfStream Race Track & Casino
---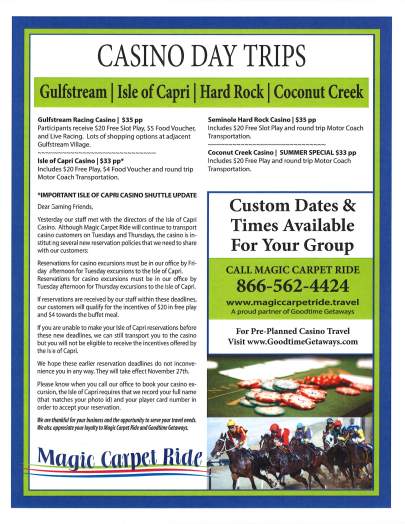 For GulfStream Racing & Casino Transportation Reservations, call: Aleta or Linda at 866-562-4424.
For more information about the GulfStream Park, click here or 954.454.7000
*Pricing and Pickup Times are subject to change
Each participant must have a Player's Card. Valid ID required for new Player's Card.
Incentives subject to change at the discretion of GulfStream Park.