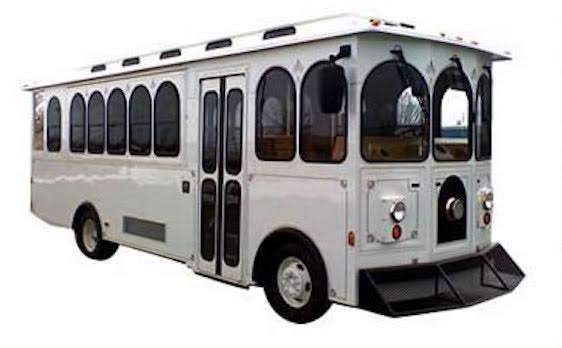 Magic Carpet Ride is undergoing a time of renewal and rejuvenation. We are adding a new vintage-style trolley to our fleet and our web site is being modernized and updated (which includes an online reservation form and payment features as convenient options). Plus, we've even added this Blog page to our web site to make it easier to post timely comments.
First, our trolley news:
We recently ordered a brand new, vintage-style trolley for our fleet which should be delivered in mid August. Photos and a complete description of our trolley will be available soon.
Our trolley is perfect to service wedding parties, prom groups, reunion gatherings, special events, or to use as a shuttle alternative by hotels and local businesses. With its neutral color palette, custom decoration options are easy. The trolley is also a great transportation idea for tours or any group that wants to travel in a fun-filled, novel atmosphere.
Magic Carpet Ride is now accepting trolley reservations for travel beginning in the Fall, 2016.
Call 772-569- 1777 to pre-book our Treasure Coast Trolley for a unique travel experience.
Web Site Enhancements:
Periodically, web sites need to be refreshed to stay current with new trends and to look modern, appealing and inviting to our customers. You will find our revised web site more attractive and easier to navigate with two significant changes:
1 - We've made it easier to do business with Magic Carpet Ride by adding an online reservation system with an online payment feature. You no longer need to call our office during business hours to book a casino trip, reserve a coach for a field trip or pay for an upcoming tour. Relax at home - any time of day or night - and use our handy online reservation system and payment features to make traveling with Magic Carpet Ride a truly convenient experience.
2 - Want to share news or make comments about your excursions or speak online with other travelers? Feel free to use this new Blog page to connect with Magic Carpet Ride staff members or fellow travelers.
Comments