About George Childers, Owner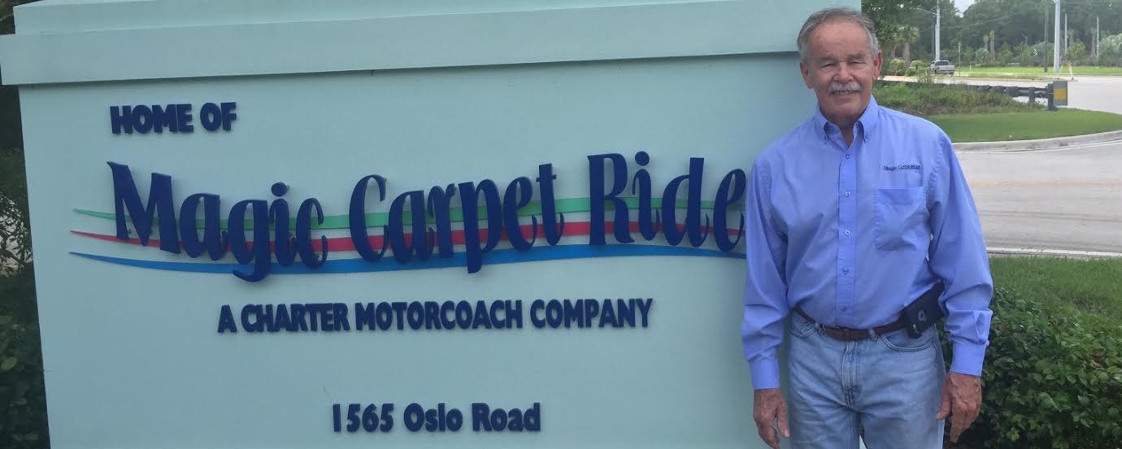 Sometimes fate interferes with our career paths. George Childers, owner of Magic Carpet Ride, spent thirty five years of his adult life working in the construction and contracting business. But when his wife, Dottie, who owns the Goodtime Getaways travel business, was left stranded (twice!) by charter bus companies that did not show up to transport her travelers on a tour, he determined that they needed to buy a motor coach to serve Dottie's customers better.
Thus, two busted Goodtime Getaways tours were the impetus to start up the family-owned and operated charter motor coach company, Magic Carpet Ride in 2004.

"The timing was right to get out of the building business," said George.

Fast forward fifteen years and now Magic Carpet Ride is the largest charter bus business in Vero Beach. With a fleet of ten vehicles, ranging from a twenty-four passenger vintage style trolley up to our fleet of full size luxury motorcoaches, the company is quite a success story built in just a dozen years.

How was this possible? Simple: hard work, dedication, and the passion to continually improve service to our customers has allowed the company to develop an enviable reputation. Charter customers safely served include: athletic teams, students on field trips, military troops, tour groups, civic festivals, casino line runs and wedding parties.

Purchasing a two acre tract of land on one of the busiest roads in Vero Beach (Oslo Road) for the company's bus terminal brought a lot of attention to the fleet of well-maintained, late model coaches. George's experience with the construction industry was vital as he transformed the land into an attractive site with paved parking, landscaping, wash station, facility for minor mechanical repairs and an administrative office complete with a changing room for drivers.